ARISTO. The Plant oil stove
Yun Ho Chae, Grupo Ari SA, Santo Domingo, Dominican Republic December 3, 2008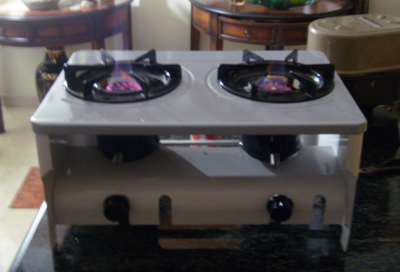 With the purpose of developing a stove that uses a different fuel to petroleum and other conventional, 4 years ago was initiated the development of an alcohol stove, which presented several problems in its efficiency such as:
A. Under performance in the generation of heat energy
B. High cost of fuel (alcohol)
C. High levels of evaporation of alcohol, which generated a minor use
D. Smell of alcohol due to its evaporation
E. Danger in use because of the high level of inflamability of alcohol in their natural state
With these results has been decided to seek other fuel that could solve these problems.
During 4 years we have researched and developed a stove that is capable of generate the same or better performance that gas stoves have and could solve the drawback of accessibility to gas in rural areas and areas far from cities.
To that end we developed a stove that works with vegetable oil, whose characteristics are presented below.
3. Description
Aristo is a 2 stove burners that operates using all kinds of vegetable oil.
The most known types of oils are Higuereta, jatropha, Camelina, African palm.
They can also be used cooking oils made of soybean, maize, sunflower, although these are not desirable because of its high cost and are also products consumed at home.
Another excellent option is the use of used cooking oil, which has a high performance at low cost.
The stove oil has a good performance on fuel consumption.
Compared with the gas generates a decrease of 40% in costs
Features and Benefits
1. Easy to use and fast ignition
2. High level of heat energy
3. Danger void, because the oil only lights inside the stove
4. Do not emit toxic gases.
5. The oil is not volatile, so you do not need special packaging
6. No need of heavy and expensive storage tanks
7. The oil can be obtained at any point of sale, in small packages
8. In the fields can be sown to extract oil for own use
9. It reduces the import of liquefied gas which would generate large benefits to the country.
10. They can be used as heaters in cold regions.
11. This produces a savings of up to 70% in costs compared with gas.
12. It helps preserve the environment by reducing the felling of trees used as firewood for cooking.
13. The oil stove is much more economical than a gas stove.
For more information contact to:
Grupo Ari SA, http://grupoarisa.com
email: ychae13@yahoo.com
Tel: 1-809-975-4675
See videos on the following links:
1.You tube: Aristo Demostration
http://www.youtube.com/watch?v=7HBsMNk7MXk
2.You tube: Aristo Introduction