Stoves Camp 2010, Cottage Grove Oregon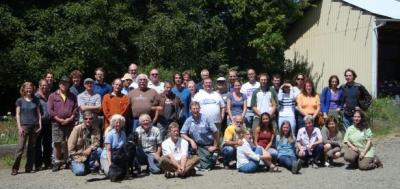 Stoves Camp Participants
Fifty two high energy participants attended Stove Camp this year at Colgan's Island, camping near the river, making and testing stoves, and listening to Fred's Big Band harmonize so beautifully. Fred and his volunteers cooked breakfast every morning and dinners at nighttime parties on Rocket and TLUD institutional stoves.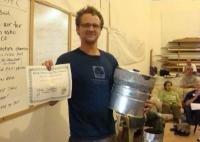 Nick Salmons from International Lifeline Fund made a very successful Haitian charcoal stove that was voted "Best in Class" by his peers!
Stove Camp provides a venue for a gathered scientific community to advance knowledge of biomass cook stoves. Participants made new stoves and tested them daily for fuel use and emissions. Every morning the test data was shared and new stoves were constructed.
This year, a great deal of progress was made on charcoal stoves for Haiti. Camp participants, some of whom have worked in Haiti,designed a two-hour Water Boiling Test for Haiti, which uses a Haiti pot
and mimics a typical cooking task, cooking rice and beans. Charcoal stoves were constructed that used less fuel and produced less carbon monoxide compared to traditional Haitian stoves.
See the attached Stoves Camp Report for details of the tests, the interesting findings about the optimum charcoal to use for each stove, and pictures of the stoves tested.