Daniel Wald July, 2011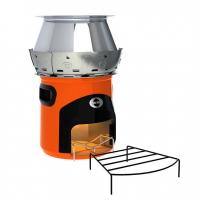 G-3300 Stove with Flexible Pot Skirt
This is a pretty straight-forward, efficient wood cooking stove, with a rest in the front for loading stick wood. It's pretty nice looking, and they've worked with Oak Ridge Natl. Labs to create a durable combustion area.
It's got a couple of neat accessories. The one on the picture above is a flexible pot skirt. Pot skirts do a wonderful job of increasing heating efficiency, but they can be hard to implement because not all cooking pots are the same size. This solves that problem simply, and it looks nice which as we know from user feedback is critical to stove success.
They have a chimney attachment which adds another "burner" to the stove, and helps vent smoke more efficiently.
Spec sheets and manuals are on their web site:
http://www.envirofit.org/cookstoves/g-3300.html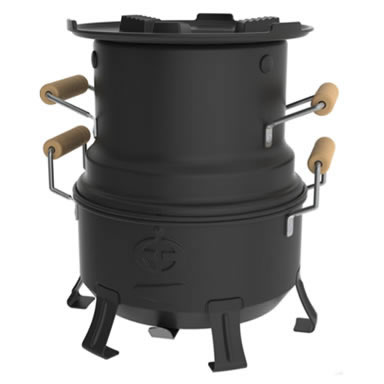 Envirofit Charcoal Stove with Cooking Pot
Apparently this is all the charcoal cooking stove. It is designed to be one of the cleanest burning stoves available. At first, I mistook the tall top part to be a cooking pot, but instead it is part of the stove. According to the instructions, the user needs a combination of charcoal and wood sticks or chips, that are loaded into the bottom of the stove, then the upper part with the pot skirt allows the stove to burn more efficiently. There are attachments for the other version of this charcoal stove that allow for grilling. This one seems more optimized for pots.
Additional information on the Charcoal stove:
http://www.envirofit.org/cookstoves/ch-4400.html