GATLANG VILLAGE , Rasuwa, NEPAL: Me, My Children and the Killer SMOKE
Pawan Shrestha, Nepal November 3, 2006
Dear All,
Thank you for your time in reviewing our Attachment. Please Check the Attachment about the killer smoke in a remote village of Nepal.

"Gatlang village lies in the high hills (more than 2200 meters from sea level) in the Rasuwa district of Nepal, at the north of Kathmandu. The village comprises nine wards, of which six forms the centrally clustered village with about 300 households and majority of them about 98% belong to Tamang community. The basic infrastructure such as drinking water, sanitation and waste water management are not made accessible among the community."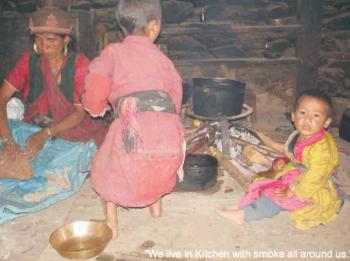 Lets join hands HELP them. Lets kill the killer smoke.
For Futher Information and Survey Reports:
Contact
Engineers Without Borders/Nepal Email:ewbnepal@yahoo.com
STARIC/Nepal Email:staricn@vianet.com.np
GREAN Studio (go green) Email:greanstudio@yahoo.com
Nike Air Max