Paal Wendelobo, January 2010
Attached you will find a prospect of the new TLUD called MUS (multi use stove).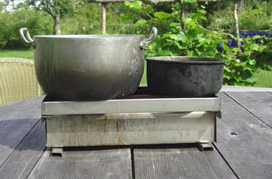 Production: Simple to produce
By hand by local tinsmith or craftsmen
By mechanical workshops.
By mass-production
Practical use
As a two blaze household cooking stove
Easy to move the pan for simmering
As a energy unit for huge pan cooking at institutional kitchen.( more units together)
As a room and water-heater
For grilling and camping
Rescue stove and refugee camps
Fuel (Simple adjustment to type of fuel, less dense fuel need a bigger volume)
Pellets. 10cm x 14 x 15-50 cm hwl
Chopped wood. (size depend of type)
Woodchips. (size depend of type)
Briquettes (size depend of type)
Wood-sticks (size depend of type)
Advantages
Fuel conserving, fuel-consumption easy to adjust to need of energy
Possible to refill.
The two blazes cooking, makes it easy to make a meal on one filling
Same unit for household and institutional cooking
Smokeless and clean burning. No soot (depend a bit on type of fuel)
The pot will come closer to the glowing charcoal for longer simmering
Easy to empty the ashes and leftover char
The multi-stove is not jet official tested for emission, soot and tar, but looks promising.
The stove needs more testing and some design is needed before the final product is ready for production.
Practical stove tests carried out by PW 01.2010
Type of Stove
Type of fuel
Quantity
Minutes to boil
5 litre of water
Time of boiling
ca
Time with flame
ca
Peko Pe 5L
5L Chopped wood
1000 gr
24 minutes
25 minutes
50 minutes
Peko Pe 3L
Pellets
1000 gr
30 minutes
40 minutes
65 minutes
MUS15
Pellets
500gr
32 minutes
17 minutes
60 minutes
MUS 40
Pellets
1000 gr
30 minutes
90 minutes
2 hours
Type of stove
Type of fuel
Minutes of
cooking temperature
Time to boil
1 litre
Time to boil
3litre
Time to frying
MUS 40
pellets
1:30 minutes
5 minutes
13 minutes
50 minutes
MUS 40
Chopped wood
55 minutes
6 minutes
15 minutes
50 minutes
Water-temperature for 5 litres tests 18 -98 °C for 1litres test 13- 98°C
Time-consumption can differ depending a bit on the use of one or two blaze at the same time..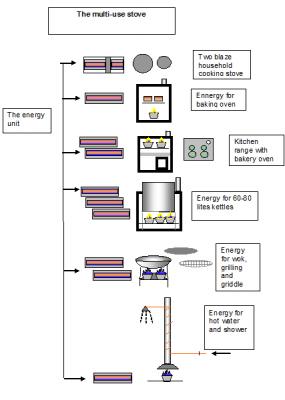 For more information, see the Multi Use Stove pdf
It was tested informal by Aprovecho, but we made a mistake by filling both chambers at the same time so too much of the flame went outside the pan and all figures was wrong. The emission test without pan was quite low, almost the same as Peko Pe. The MUS is definitely best with pellets.
With regards, Paal WendelboSaldos - Entrega gratuita