Fuelage
by
Jeffrey R. Davis
www.puffergas.com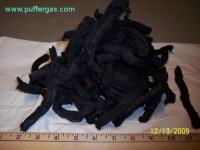 Fuelage
Abstract
Fuelage is a fuel and construction material made from grass or possibly other plant material. After the grass or other plant material has properly retted it is wet extruded in the form of a pellet and allowed to dry.
BACKGROUND:
In the fall of 2007 I was experimenting with composting as a source of space heating. This is called the Thermo-Biopile [2] and can be seen in photo 17. The plant material used was switch grass and wood chips. Photo 15 is the grass field before harvesting and photo 16 is the harvest photo. During the summer of 2008 I noticed a black material when the Thermo-Biopile was disassembled. I saved some of this material to test as a feed stock for Fireballs.
You can refer to my other article in order to understand the Fireballing process [5]. The first step was to place this material in a rotating drum with rocks and then after a period of ball milling the rocks were removed and the feedstock was left in the drum to see if it would agglomerate into balls. The consistency of the material would not allow this but it might be possible if another material was added.
It became obvious that this feedstock would be best used in an extruder so I modified a meat grinder that can be viewed in photo 1. The Fuelage is drying in photo 2 and 3. I'm not sure if this material needs to be milled (in this case ball milled) some before before extruding. An extruder could be designed to dewater and maybe mill this material, thus possibly a higher density particle and shorter drying period. Photo 4 is a picture of a dried particle.