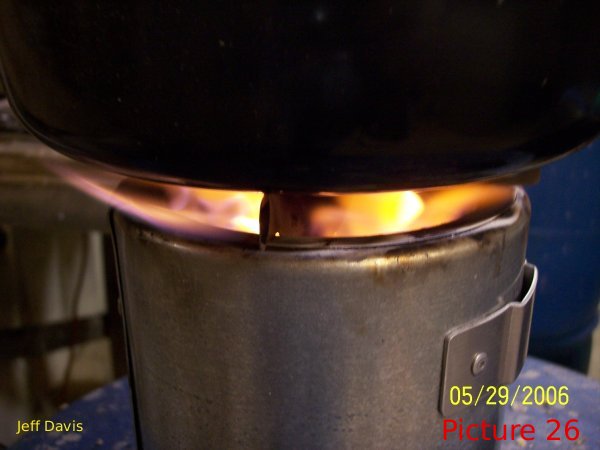 Picture #26
PondScumGas Stove?
I would have liked to call this article the "Alga Fireball" but the subject material is more precisely described as pond scum because it is a mixture of biomass that is found floating on ponds. Pond scum is a common name given to algae found on the surface of ponds. This material is native to Erie County, PA, USA. In reality, I have found it to be a combination of algae, leaves, small branches, etc. This sample also had a course hair like aquatic plant material, I'm not sure if this is alga. The purpose of this experiment is to ascertain whether this material can be used for fireball feedstock or any other briquetting method.
<!-break-->
If one searches the Internet for this species of biomass, you will find many articles on how to kill it, for some reason people harbor some kind of ill prejudice toward it. I find this difficult to understand, especially when one considers that algae takes in light and CO2 then converts this to oxygen and biomass. Furthermore it may be responsible for creating a portion of our oil reserves, just to mention a few of it's features, but why waste precious time trying to understand the irrational mind when there is meaningful work to be done.
Because of a shortage of time I must break this article into an unknown number of articles. This article, part 1, will deal with how I processed the material into fuel feedstock. I did not use an agglomerator to form the fireballs because we are only examining the material, feedstock, that could possible be used for fireballs or other briquetting methods.
First I harvested about a five gallon bucket of pond scum with the simple aid of a lawn rake. The next step was to process it through a garbage disposal. The pond scum, at this point, seemed too course for fireball feedstock, this can be seen in picture #16 (#16 is the first picture in this article). I did make a fireball, by hand, from this material. It did bond OK but seemed to be a vary low density fireball. There is no picture of this fireball in this article but maybe I'll include one in part 2.
After the disposal processing, the material was processed in a kitchen blender, that can be seen in picture #17. Next, it was somewhat dewatered on a rag fastened on top a bucket, as you can see in picture #18.
In picture #19, you can see what it looks like after my simple dewatering process. This material hold more water than other material that I have worked with. More of the water should have been removed before forming the pseudo fireballs. What I mean by pseudo is that the fireballs were not made in a agglomerator hence not a true fireball.
In addition to forming pseudo fireballs, I also formed pancakes out of the reduced pond scum. Picture # 20 shows the wet material placed in a form, plastic lid. It has been dried in picture #22. This was a small effort to explore the possibilities of pressureless compaction/granulation agglomeration method. In other words; make a large sheet of dried pond scum and later reduce it into smaller pieces. One can observe from the pictures that the pseudo fireballs are denser. The pancakes tear when they dry. So during the drying period, they tend to become more porous but the fireballs tend to tighten up.
Algae has been reported to be a binder and in picture #21 one can see that the pond scum has bonded well to another plastic form. The plastic form in picture #20 and #22 has kind of a waxy surface hence it did not bond well to this form. Possibly pond scum could be use instead of starch for the binder that is used in the charcoal fireballs.
In pictures #23, #24 and #25 you can see the pseudo fireballs that were made from this material.
Picture #26 is my lead in picture for part 2 of this article. Here you can see a Woodgas Stove and pond scum pseudo fireballs at work.
Jeff Davis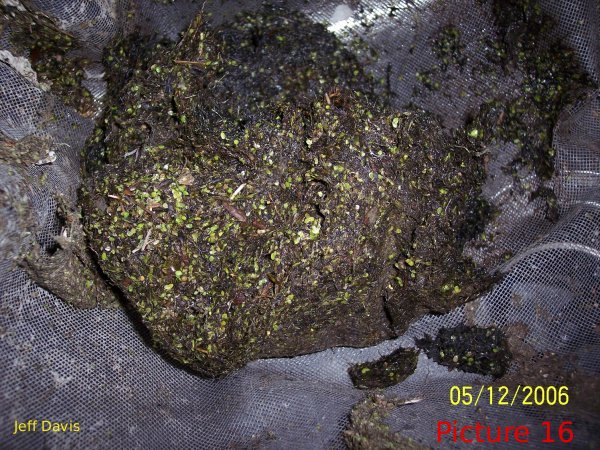 Picture #16
Picture #17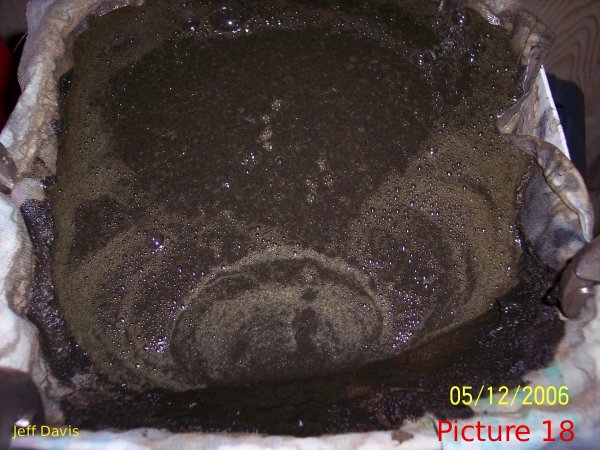 Picture #18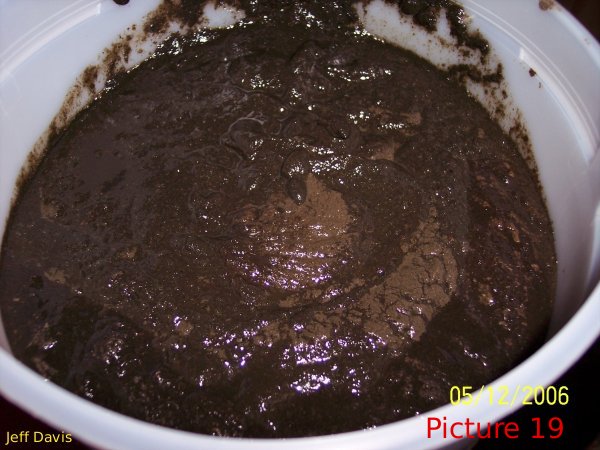 Picture #19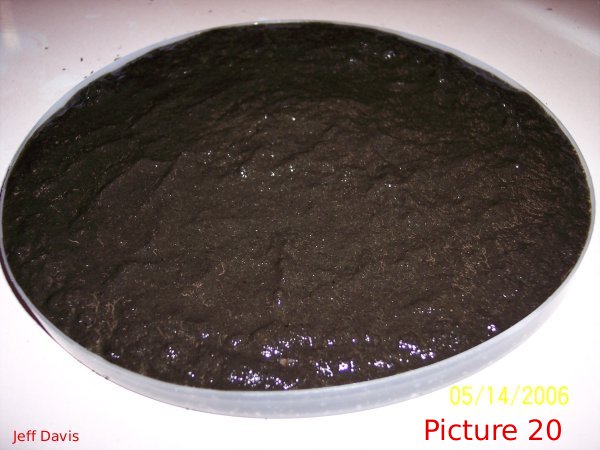 Picture #20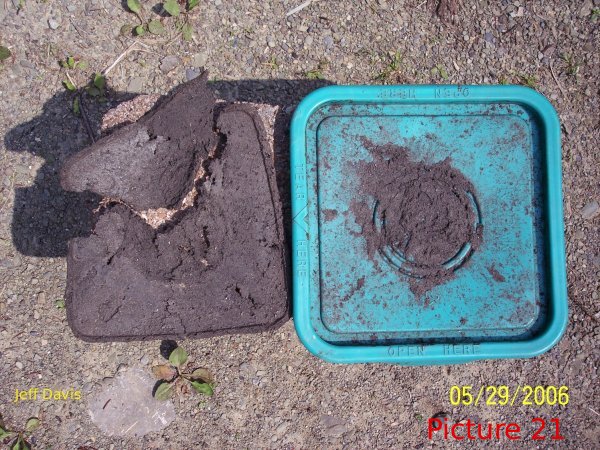 Picture #21
Picture #22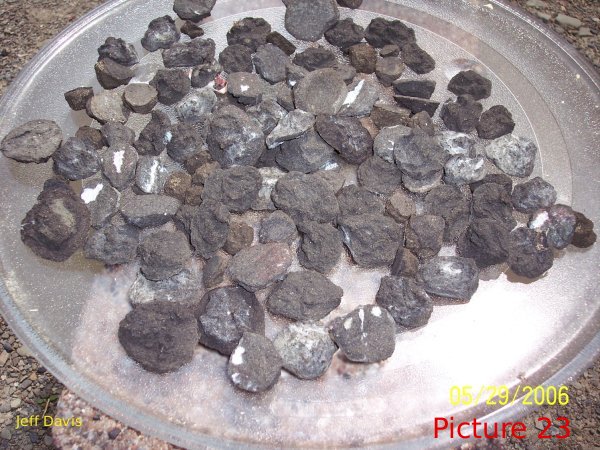 Picture #23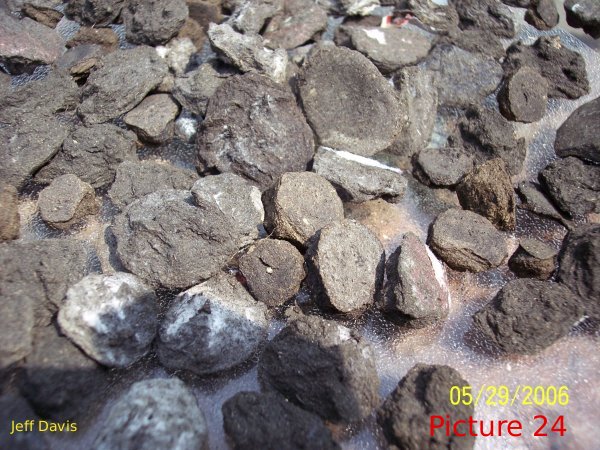 Picture #24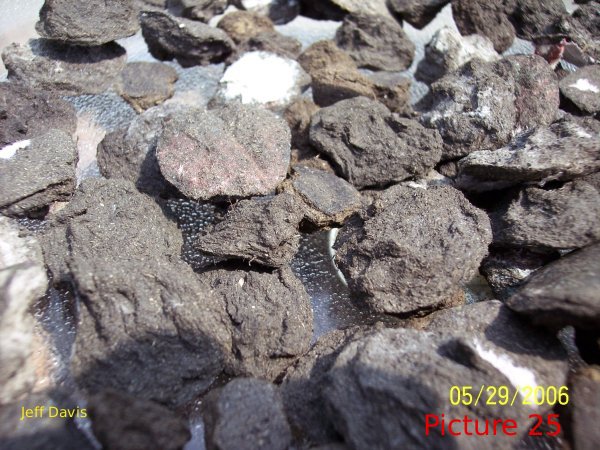 Picture #25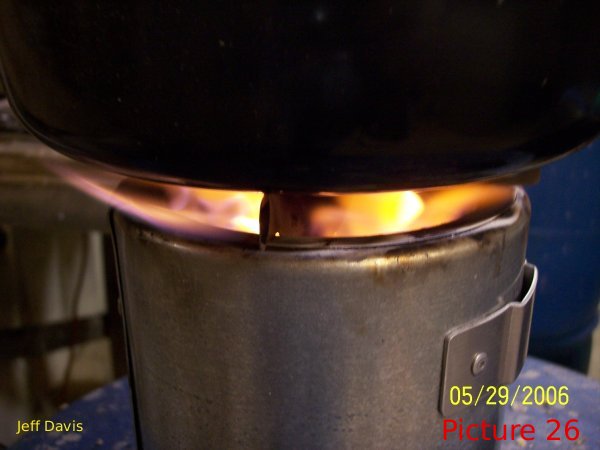 Picture #26Entrainement Nike