The Dung One Stove
Lanny Henson, September 3, 2006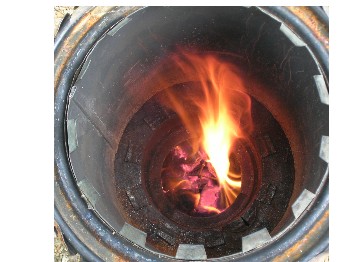 The Dung One Stove is my first attempt to design a stove to burn cow dung.
I started with a center fire burner that has a full bottom Simple Bar Grate, installed into a double wall burner module that has only bottom supply air.
I cut the dry cow patty into strips and put 240 grams into the burner and used 5 grams of small wood and drops of wax for fire starter.
It took little effort to top light the dung and it began to burn with little visible smoke.
After it burned for about 3 min I set a pot module on the burner module with 5 liters of water.
A few minutes later the dung began to smoke so I removed the pot and the smoke cleared. I installed the pot again with the same results.
The pot gap did not allow enough air flow so I set one empty pot module on the burner and set a second module with the pot of water on top for a stack of 3 modules which created 3ft/90cm of draft height. This configuration is too tall and a tip over hazard but with 3 ft of draft the dung burned with only a little visible smoke.
The 240 grams were consumed in a few minuets which way to fast to effectively heat the pot.
The 5 liters only gained 80 degF, most of the heat just blew past the pot.
This CF Burner with a full Simple Bar Grate may work for a stove that needs fast heat like a wok but it is going to take a different type of burner for leached out cow dung to heat a pot.
I am new to dung, so to speak but a clean burning dung stove does seem possible. I did use dry leached out dung, about 6 months on the ground which may not be what most dung burners use but I am thinking that a burner with side/top supplied combustion air would work better for leached or just dry fresh dung.
The next time my dung burner makes it to the top of the list I will use a side supply/ Side Winder Vortex Burner and no bottom air, until the char phase, and see how that works. I will also stay up wind!
Sometimes I am frustrated with my list of projects which is like a pack of attention starved dogs that mob you when you step out the back door...I just had a brain storm, a list burning stove, that is it!
Thanks for viewing.
Lanny Henson, having fun with dung!
The photos show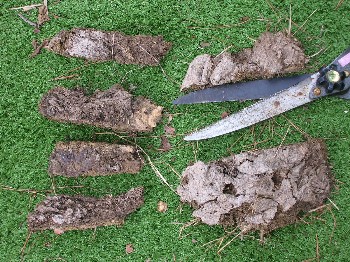 Dung 05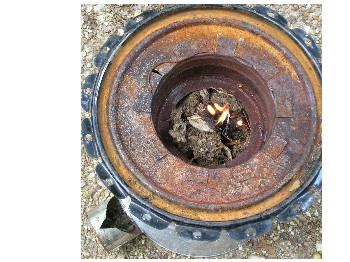 Dung 01
Start up, top lit with 5 gr of wood and a few drops of wax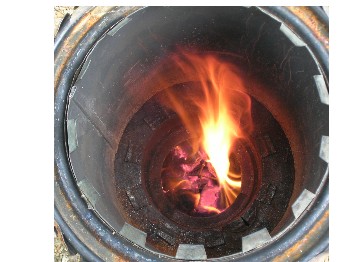 Dung 03
About 15 min and out of control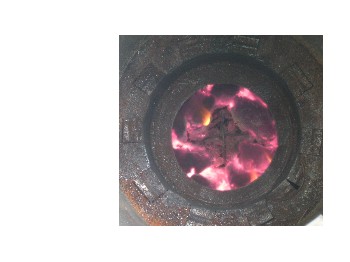 Dung 04
Charcoal phase
nike