Summary of Aprovecho's Summer Stove Camp, 2006
By Dean Still and Nordica MacCarty, September 6, 2006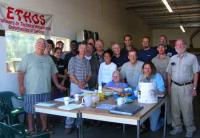 Stove Camp 2006 was extremely interesting, especially because we had experts here who could help define what is known, figure out what needed to be done to expand the state of knowledge, and then, most importantly, have the tools to accomplish the experiments.
For Dean, the best moments happened around the table above when Chris Roden, Jonathan Lewis, the Aprovecho staff and everyone tried to get a general feeling for wood-burning stoves effect on global warming. Aprovecho's recent tests at CSU of greenhouse gas emissions such as CO2, Methane, N2O, NOx, etc. helped to predict the gaseous emissions from the following stoves:
• Three stone fire
• Rocket stove
• Karve Gasifier stove
• Philips fan stove
• Charcoal Jiko stove
• Mayon rice hull burning stove
The gases, however, are only a part of the picture: particles also play an important role in the atmosphere. We learned that elemental (black) carbon particles produced in flames have a warming effect 1000 times greater than CO2 per gram, while organic carbon (white) particles produced by smoldering have a cooling effect 150-200 times stronger than CO2. Thankfully, Chris Roden had brought his and Dr. Tami Bond's ARACHNE system which could measure the composition of the total PM to determine what percentage of black or white particles were produced by the stoves above. Chris, Damon and Nordica were at the lab till 11pm having a great time testing these stoves. Results should be available soon.
Doing this kind of research in a small lab in Creswell, Oregon for no money is what ETHOS stove camp is all about!
The publicized theme of this year's camp was a competition to design the cleanest-burning fan stove. Two categories, side feed and top feed were awarded prizes. The top feed prize went to Dr. Paul van der Sluis for the Philips fan stove. The side feed Rocket stove with fan developed by Roger and Sule of Colorado State was the cleanest burning side feed stove. Congratulations to the winners!