Solar Still
Frank Shields, Soil Control Lab, Watsonville, CA August 5, 2007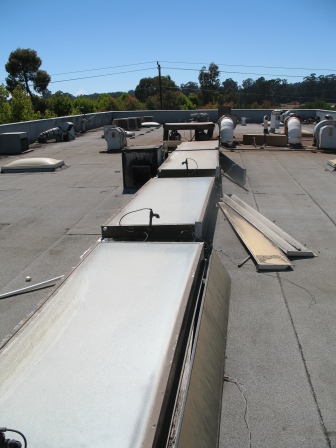 Solar Still
Stovers and clean water people;
I found some more info on the solar distillation unit we installed in 1985 and used until we moved into a larger building.
Each unit is 6' X 3'
The slope is from the box being 5.25" along the back long side down to 3" along the front long side. So 0.75" per foot" The glass is 'ground glass' on the under side.
The collecting is along the lower front in a stainless steel U.
There is a reflector along the long high side to reflect the sun onto the glass. The water tray inside is stainless steel and left shinny (not black).
It works by a pool of water that is heated from the sun then condenses on the under side of the glass due to cooler air flowing over the surface. The water hangs onto the glass and slowly moves down the slope to drop into a stainless steel U. The unit is complete sealed with silica glue.
This is what the contract stated:
The unit will generally give 2 gallons per day.
An automatic feed water system, time clock operated, connected to your municipal water supply Brine flush lines to waste Product (distilled) water to your reservoir.
The solar still feed and brine flush water requirement is approx. 12 gal per day. Will work for up to two days without power then the feed water can be hand filled if needed to prevent the pan from drying out. In the event the glazing will lose its hydrophilic quality ammonia hydroxide is added to the feed water and approx two weeks needed to re-establish properties. (note: we never had this problem once the two weeks got it started.for the several years we used it.)
If seawater is used the daily feed water requirement increases from 12 gal to 18 gal per day.
We used four units and got about 9 gal per day total in this Calif climate. We also added low watt heaters to keep the units running later into the night before the flushing and feed water replacement.
I have pictures of the abandoned units that have been left on the roof if anyone is interested.
Frank
--
Pictures:
1) four units lined up
2) reflector placed in position on back
3) electric heater we added so it would work later into the night (not necessary)
4) back side of reflector. Has a light weight structure frame to maintain its shape. Reflector is just shiny metal.
5) U shape collector and pipe to remove the distilled water to storage tanks
6) Inflow pipe on left side, out flow on right
7) picture of all from other end
Frank Shields
Soil Control Lab
42 Hangar way
Watsonville, CA 95076
(831) 724-5422 tel
(831) 724-3188 fax
frank@compostlab.com
www.compostlab.com
---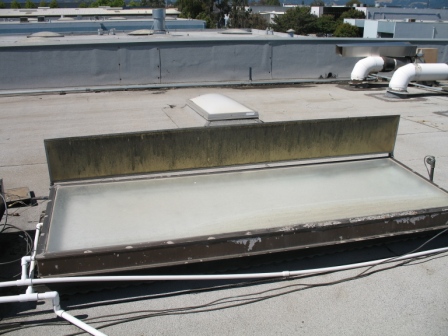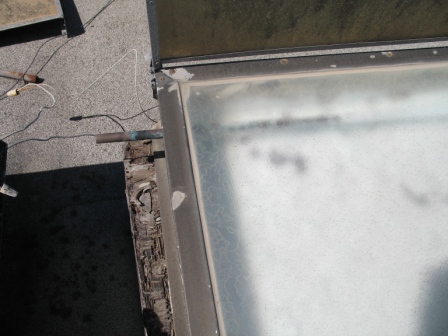 3. Electric heater we added so it would work later into the night (not necessary)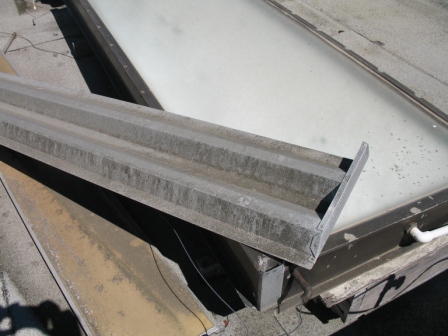 4. Back side of reflector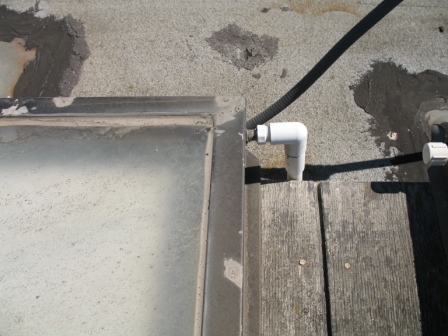 5. U shape collector and pipe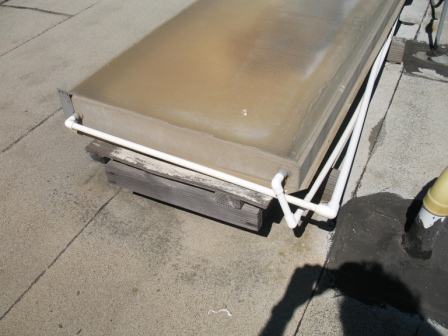 6. Inflow pipe on left side, out flow on right
7. Picture of all from other end