g_shakti@grameen.net,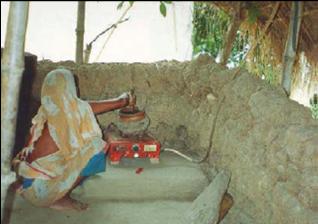 Woman Cooking With Biogas
"Bangladesh has one of the lowest rates of energy consumption and 85% of the population does not have access to grid electricity. People largely depend on biomass fuels such as wood, crop, and animal residues for household energy related activities, primarily cooking.
In recent years, Grameen Shakti (GS) has emerged as a key player in promoting renewable energy technologies in remote, rural and off-grid areas of Bangladesh. A member of the Grameen family, the organization started its activities in 1996 as a not for profit company, to provide renewable energy services including, solar, biogas,
wind technologies.
The main element of Grameen Shakti's approach includes an innovative financial system based on installments. This system is based on experiences from Grameen Bank's micro-credit program. Other key factors include linking renewable energy technologies with income generating activities, and providing efficient services at the local
level through renewable energy entrepreneurs. Simultaneously, communities are motivated through awareness raising campaigns to establish new renewable energy businesses and create employment opportunities. . ."
"In rural Bangladesh, energy consumption for cooking outstrips the demand for all other uses of energy. Grameen Shakti has launched a program to promote improved cook stoves in Bangladesh to address both the high demand for biomass fuels and the indoor air pollution caused by cooking on polluting, traditional stoves. In the first year, GS will train 200 women technicians who will in turn train other women and help to market and construct improved cook stoves for households and businesses. Potential trainees will be selected with the help of Grameen Shakti's 100 field offices. Two such trainings have already been conducted with 20 participants in each session. GS is following an innovative training approach, which focuses on practical demonstration and community participation. After the end of each session, improved cook stoves are installed in 20 households and 1 commercial institution. These stoves are constructed by the trainees and 50 community representatives are invited to taste the food
cooked on these stoves. It is expected that the invited guests and participants will promote improved cooked stoves at the community level.
After the training phase,. ."
See complete article in the PCIA Bulletin 9jordan Release Dates