Humanitarian Shelters
Jeff Rahm, Triangular Integrated Structures, October 19, 2007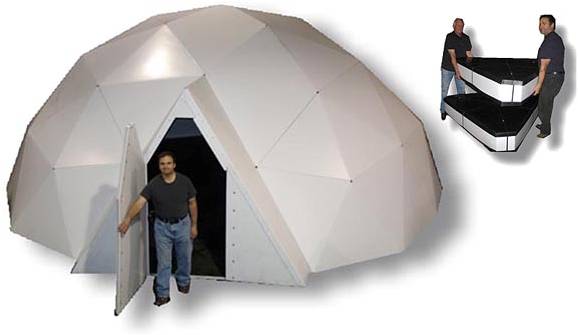 Geoshelter with Entry Door
We build a rapid deployable Geo Shelter that meets UN and World Bank requirement and has been tested by an independent third party engineering company to assure that our aerospace engineer is exceeding the requirements set forth by the UN and the World Bank. We have a UN partner(with a UN number) and (or therefore) we have a UN number. These shelters come in a box the size of a coffee table and in 1 hour assemble into a 500 sq ft house or disassemble and go back in the box when displaced persons return to there homeland.
Yes, it can take a chimney, doors, windows, floors, insulation up to R-38.
Can you refer me to a UN/World Bank partner that may be able to work with us in getting the shelters where there is a need or direct us to humanitarian funding groups that can help?
Please see the attachment and let me know what you think. PS. I like your stoves and the efforts you are making, good stuff!
Thank you,
Jeff Rahm
Triangular Integrated Structures
VP Business Development
386-405-1366
Email:jrahm4@aol.com
http://www.deployablegeoshelters.com/Nike Air Jordan Retro 1 Red Black White - Buy Air Jordan 1 Retro (white / black / varsity red), Price: $60.85 - Air Jordan Shoes