Project Title: Western Gasifier Stove Project
African Christians Organization Net work, Salim Mayeki Shaban, May 10, 2009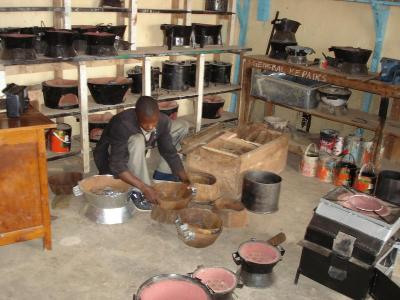 APPLICANT
Name of Organization: African Christians Organization Net work
Mailing Address: P.O.BOX 323, BUNGOMA 50200 Kenya
Physical Address: 1 st fl. KCB Building
Telephone: + 254 727 621841
Email: salimshaban2005 at gmail.com
Principal Officer: Salim Mayeki Shaban
Project Contact Person: Salim Mayeki Shaban Programme Coordinator and Everlyne Otunga Program Manager
PROJECT
Focal Area: Reducing indoor air Pollution and forest Conservation
Activity Category: Learning by Doing Project.
Proposed project Duration: Two Years.
FINANCES
Total Mount grants Request: (KSHS) 4,245,429.20 (USD) 62,241.3
Other Contributions (KSHS) 1,520,000.00
Grand Total (KSHS) 5,765,429.20
Exchange Rate kshs 70.00 = I Us$
1.0 EXECUTIVE SUMMARY
1.1 GOAL OF THE PROJECT
To promote energy conservation and reduce deforestation in the sugar cane growing in Western Kenya.
.1.2.1 Specific Objectives
To Promote TLUD gasifier cookstoves and five biogas planter in Western Kenya
To provide and service 20,000 TLUD gasifier cookstoves and 5,000 fireless stoves..
To train 150 women and youth groups in production, repair and sale of energy saving equipment
To train schools and communities on energy conservation and use of renewable energy technologies.
To develop an energy equipment workshop for production, service and sale of improved cook stoves and energy saving equipment.
1.3 ACTIVITIES
The activities in the project will be
Community mobilization on energy conservation, forest resource management and effect of indoor air
Training in design, manufacturers and sale of renewable energy equipment and technologies i.e. biogas, TLUD gasifier cookstoves.
Networking on renewable energy conservation i.e. knowledge sharing and information dissemination.
Manufacture TLUD gasifier cookstoves, and five Biogas planters
2.0 STATEMENT OF COMPLIANCE WITH PARTNERS
This project will be carried out within the Nile Basin in Western Kenya. The same area is sources of Nile and other small tributaries. The project will promote energy saving culture and lead to sustainable use of forest resources while contributing towards the Kyoto protocol implementation. While noting that firewood is the major source of energy within the Nile basin and Methane, is 20 times more potent CO2 and hence its use in biogas energy is encouraged in managing green house effect.
3.0 PROJECT AREA
Western Kenya has a population of over 5 million people of which 80% depend on agriculture for livelihood and over 70% use firewood as fuel source. A survey has shown that all boarding schools use firewood and charcoal as fuel for cooking hence pressure on forest cover. Sugar cane growing in Mumias, Malava and Bungoma is a heavy user of trees as firewood. This combined has led to heavy exploitation of forests and trees for firewood hence a danger to the water catchments area.
4.0 PROBLEMS/CHALLENGE
Sugar cane cultivation in western Kenya, which started in mid 1970's, has accelerated the rate of destruction of trees due to high population density has further compounded the problem of destruction of forests and trees hence threatening the very source of water within the Nile Basin. Schools continue to put pressure on forest due to their high demand for firewood to use in cooking with highly inefficient open fire stoves. These project will develop biogas as an alternative source of energy, promote economical use of energy in institutions and homesteads through use of energy saving stoves create employment for people trained in production and service of the same and of the same and efficiently generate and use the highly potent methane from farmlands through biogas plants.
5.0 RATIONALE
This project meets the requirements of MDG's and Partnership for clean indoor air broad objective. The project will support community driven effort and will address environmental threats on local scale within the Nile basin region in the area of development and use of alternative energy and construction materials. In the process of carrying out participatory planning and appraisals for Musamba, Matungu, Kholera and Khalaba, the villagers expressed the desire to get cheap alternative to fuel firewood energy and alternative to open fire 3-stone cooking method. In all this areas, villagers expressed their fears that trees are disappearing and as a result they use farm wastes like maize stalks for firewood. The same should be used to replenish soil fertility after the crop season and should not used in the kitchen as firewood. Others were resorting to cane trash and remnants.
See specific goals and objectives in the attached project document.