The Onil Stove 2005, Don Oneal, HELPS International
For the most up to date information, see their web site http://www.onilstove.com
Don O'Neal and Helps International have developed efficient cooking stoves in two basic styles.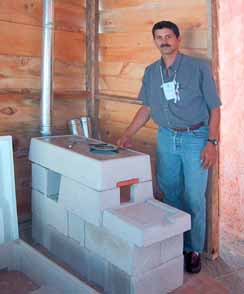 The Plancha is a cast concrete style with pot openings and flat area for making tortillas and other flat grilling.

The Nixtamal Stove is a giant pot style stove for making large quantities of boiled stoves.
Both stoves have been developed with extensive input from the Guatemalanwomen using the stoves. They are very efficient (over 60% more efficient than three stone fires, and reducing smoke and emissions by 90%), and they both enclose the flame and cooking area, and elevate it. That reduces back strain for the cook, and dramatically reduces the number of burns from the cooking fires.
There are a few basic stove principals that help these stoves lower emissions and attain efficiency, in an inexpensive stove. First, the stoves use a rocket style layout, and a locally sourced pumice-insulated combustion chamber, that helps completely burn the combustion gasses oil and smoke generated by the cooking process. Second, these stoves have been optimized for efficient heat transfer to the cooking griddle and to the pot used by the consumer. Third, the people using the stoves are trained to prepare and clean the fuel that they use. The third part is key because it allows both stoves to burn well with less fuel, and very few problems for the stove consumer.