MAGH-CM1 T-LUD WOODGAS STOVE - COMMON MANS' LOW COST STOVE N. Sai Bhaskar Reddy, Geo, January 2, 2008

MAGH-CM1 T-LUD WOODGAS STOVE
Magh CM series TLUD natural draft and forced air stoves are designed. 5 prototypes are being presented here. These stoves range from $ 1 to $ 7, can be easily made by the communities. Communities wanted TLUD stoves $10 of less for adoption. Here in India, many people maintain the stoves by pasting with cowdung, soil and ash paste. The cement, sand, red soil, pieces of bricks, iron wires, tins and iron sheets are used for making these stoves. The main challenge is how long the combustion chambers last and how do people maintain them, as they do regularly with traditional stoves. These stoves will be tested with communities using them as part of the Good Stoves and Biochar Communities project, being implemented by GEO and supported by GoodPlanet.org. 26 August 2009
For more pictures please see:
http://picasaweb.google.com/saibhaskar.gsbc/MaghCMSeriesStoves#
MAGH-CM1 is the stove meant for COMMON MAN (CM). Designed by Dr. N. Sai Bhaskar Reddy, GEO and declared as Creative Commons. It is a low cost t-lud stove i.e., costing less than $7 or Rs. 250 (INR), safe and easy to maintain, apart from having all the good features of MAGH-1 WOODGAS T-LUD STOVE or SMOKE BURNER STOVE http://www.e-smokeburnerstove.blogspot.com, i.e., High efficiency around 40%, Less smoke, conservation of biomass, charcoal is the resultant by-product after every cooking. All types of biomass locally available, about 1 inch in length fragments could be used for fuel. The cost is drastically reduced because of adoption of a conical shaped concrete - cement + fine sand mixture, is used for outer frame instead of stainless steel body. Relatively concrete is less conductive as compared to steel, so more safer for women and children. Inside of this outer concrete body could be made glossy for reflection of the heat and less absobtion. The thickness of the concrete is 3/4 inch, diameter 12 inches at the bottom and 7 inches diameter at the top. Total height of the stove is about 12 inches. The combustion chamber is made up of stainless steel with ears so easy to insert in its place, it is having primary and secondary air holes. This stove provides additional employment opportunities to the rural people. The only external things are the fan, AC to DC 12v adopter and power backup accessories. The combustion chamber made up of stainless steel could be replaced with the potters combustion chamber as shown in http://e-woodgastove.blogspot.com Low-cost woodgas stove. Hope these type of Good Stoves would be more attractive for the Common Man to own and be part of mitigating climate change through adoption. For video and more photographs see: http://e-maghcm1.blogspot.com/ GEO is willing to be partner with any Organisation / Institute and provide support in dissemination of GOOD STOVES.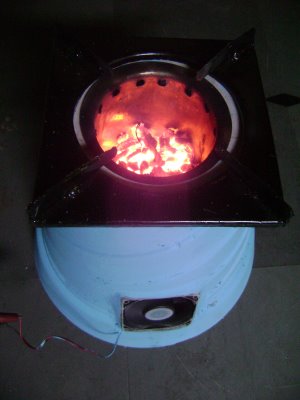 MAGH-CM1 T-LUD WOODGAS STOVE