Flip and Jon Anderson,updated May, 2010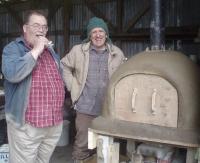 and the movie:
Flip and Jon Anderson put together a beautiful earthen oven that's powered by a Rocket stove. They've got all of the details on their picassa photo album:
https://picasaweb.google.com/Jonnygms/RocketOven#slideshow/5598633235210438450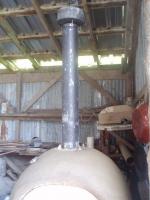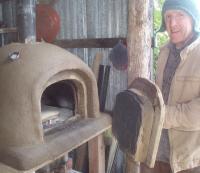 They were inspired by Kiko Denzer's book Build your Own Earth Oven to build the supports with apple pruning into an inverted basket, and then mix the clay and straw to put over it. This was done on a wonderful earthenware support built on top of simple framing to elevate the oven to allow for the rocket stove underneath.
Larry Winiarski offered suggestions and tweaks to improved the efficiency of the stove, and Flip and Jon report that it makes a beautiful pan of rolls and marionberry pie, with very little wood, and can also boil water off the top of the chimney. Nicely done.