Art Donnelly, SeaChar.Org June, 2010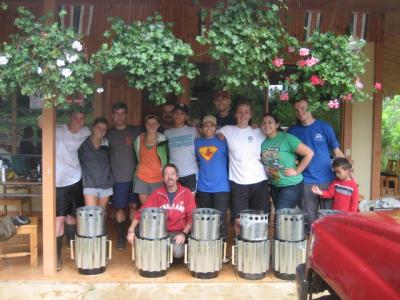 It was not quite 9 months ago, when I sent out an email to a small group of collaborators, with a Subject line that asked the question: "How do we get biochar stoves to Central America?" Of course, like the punch line to the old vaudeville joke, the answer is "lots of hard work". I could not have imagined 9 months ago was how rewarding all that work would feel. I want to share that feeling with all of you.
I recently returned to Seattle from Costa Rica's famed coffee producing area the Santos Zone. This was my second trip since mid- January. I have been continuing my work as a technical consultant to a clean stove/biochar project. Proyecto Estufa Finca (Farm Stove) was initiated by organic coffee farmer Arturo Segura http://www.solcolibri.com/ and the members of the local citizens group APORTES.
The goal of the Estufa Finca/ Costa Rica project is to provide safe and affordable alternative cooking technology to one of the most vulnerable populations in Central America. Each year over 100, 000 migrant agricultural workers enter Costa Rica to harvest the coffee and cocoa we enjoy. This population of families most often live without access to clean water and sanitation. They typically cook on smoky and inefficient wood fires.
The effects of this daily exposure to high levels of carbon monoxide and soot fall most heavily on women and young children. Respiratory disease is a leading cause of sickness and death in this population. This situation mirrors that of millions of families in Central America. This toll is not only felt in terms of human health, but also in it's contribution to deforestation and climate change.
I am very pleased to announce that in cooperation with the recently formed local woman's group of APORTES (the Givers), SeaChar.Org is now helping to build and distribute the clean burning, biochar producing, Estufa Finca biomass stove for the Central America market. These elegant, efficient stoves, which are designed in Seattle and made in Costa Rica, are now available for $40 US. (plus shipping) We recently had the assistance of TLUD stove inventor Dr. Paul Anderson http://www.hedon.info/Micro-gasificationWhatItIsAndWhyItWorks and a $1500 tool and materials grant from a Bloomington-Normal Illinois, Rotary Club . This has allowed us to put together a temporary workshop, where three women can work and to stock supplies for 65 stoves. The initial goal of our joint Seattle/ Costa Rica project is to reach the estimated 1,500 seasonal agricultural workers homes, with a clean, safe efficient cook stove. A donation of $40 pays for a stove for a coffee pickers family.
The women's owned stove workshop is located in Santa Maria de Dota, Costa Rica. Working from patterns, guides and jigs, which we developed as a team, the women can produce completed stoves and stove "kits". Working with partners like Santos Tour http://www.santostour.net/ , the kits are being assembled and paid for by visiting student volunteers, during one-day "Stove- building" workshops. APORTES organizer and workshop leader Carolina Abarca, is getting stoves built and Estufa Finca global ambassadors. These are high quality appliances, assembled with simple hand tools and rivets. The completed stoves are tested and then donated to the Proyecto Estufa Finca, to be leased for home placement with migrant coffee picker families. The Estufa Finca is both fuel flexible and fuel efficient. These easy to use TLUD-style, stoves burn with 65% lower emissions of carbon monoxide and soot, than a traditional, open three-stone fire. They convert dry biomass waste into a clean gas flame and valuable charcoal. Interest and demand for both the stoves and workshops are growing. We are getting inquiries from around Costa Rica and around the world. The potential for widespread good and a vibrant woman's owned business seem imminent.
To realize this potential is going to take your critical early support. Your investment of time, money or expertise at this early phase will ensure our success. The Seattle based non-profit, Seattle Biochar Working Group, is providing carbon negative technology development, testing, training and fund raising assistance for Proyecto Estufa Finca. You can make a tax deductible donation using PayPal at http://www.seachar.org/ or contact art.donnelly@seachar.org for information on how to buy stoves and to learn how you can help us reinvent fire.
Pura Vida,
Art Donnelly
SeaChar.Org
Proyecto Estufa Finca
--
"it's time to get positive about negative thinking"nike