Crispin Pemberton-Pigott & Christa Roth, December, 2009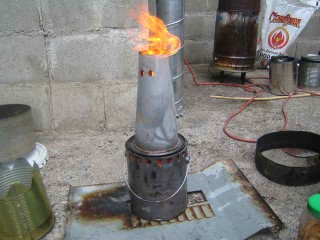 Chinese Draft Enhancer
Dear Friends
Working on advice brought by Cecil Cook from Lusaka, Peter Coughlin in
Maputo has tried using a short vertical tube (about 400mm) held over the
lighting charcoal to accelerate ignition. This tool is widely used in
Lusaka. It is typically 50mm in diameter and can be made from an piece of
scrap pipe or rolled metal sheet.
Peter reports that people using it have reported faster lighting and a
reduction in emissions during ignition (which is the smoky part of a
charcoal fire).
I tried a similar though larger tube over coal in a bucket and achieved a
dramatic reduction in particulate emissions - certainly more than 90%.
Regards
Crispin
This principle is not only limited to Zambia, it is pretty widely applied by other charcoal users in the region.
Though the most perfect 'chimney' I have got is from China: It came as a standard accessory packed in the carton of the Chinese coal-briquette stove marketed in South Africa under the name of 'Lotti stove'. I think the stove is manfuactured by Shengzhou. So it could be standard chinese practice. The conical shape with the two little air-holes on both sides shortly below the top works much better than a straight tube. We used one at stove camp this year on a two-can TLUD instead of the upper straight can and draft increased considerably. Foto attached, but not sure if it makes it on the list. regards, christa