Aprovecho Mass Producing Stoves
Dean Still, Aprovecho Research Center, September 4, 2007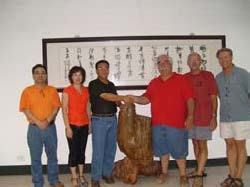 Officials from Shengzhou Stove and Aprovecho Seal the Deal
Aprovecho is now making improved cooking stoves in China! The attachment shows the factory, etc. We looked around China and found a great, family run factory that is making three stoves with us:
1.) A household Rocket with an adjustable skirt: meets all the benchmarks, looks nice, has a cast iron top, sheet metal body, ceramic combustion chamber, cast iron grate, can burn wood and charcoal because a cast iron door closes when burning charcoal.
2.) An institutional chimney stove like the one we had last year at ETHOS.
The body is insulated sheet metal, not a barrel, comes with a 60 liter stainless steel pot with lid. Meant for schools, orphanages, factories, restaurants, etc.
3.) An adjustable VITA type skirt stove that fits different sized pots. Very fuel efficient and inexpensive.
The prices aren't fixed yet but all the stoves will be very affordable. One of our goals is to help NGOs make money selling the stoves, to assist them to become more financially self supporting. Prices will be set in November and we should be able to start shipping stoves around January '08.
The stoves are shipped from Shanghai in a 20' to 40' container.
Our new adventure!
Best,
Dean