SODIS
Michael travor, Majuro, Marshall Islands, January 19, 2010
Noting World Stoves efforts there is another critical issue for Haiti. WATER. In line with this I would like to point out SODIS which people can google for more information. Essentially it is is simply a clear plastic bottle partially filled with water, shaken and placed in direct sunlight. Oxygen, UV light and elevated temperature yield safe drinking water. Anyone is a position to do so
should see about passing on the information where it would do the most good.
Michael N Trevor
Majuro
Marshall Islands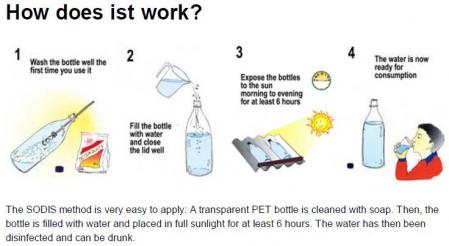 http://www.sodis.ch/methode/anwendung/index_EN
Women Air Jordan 1 Mid "Crimson Tint" 852542-801 Pink White Online, Price: $88.58 - Air Jordan Shoes, Aljadid