ETHOS 2005 Summer Camp August 21-27, 2005
Dean Still, Aprovecho, August 2005
Dear STOVERS AND ETHOS:


You'll find attached the results from the Stove Competition held at Aprovecho.

HOOD SUMMARY AUG 30 2005 (REVISED)
The results are summarized in four categories:


1.) Time to boil 5 liters of water

2.) Fuel to 'cook' per liter (Bring 5 liters to boil, simmer for 30 minutes)

3.) Carbon Monoxide made per liter of water boiled and simmered for 30 minutes

4.) Particulate Matter made per liter of water boiled and simmered for 30 minutes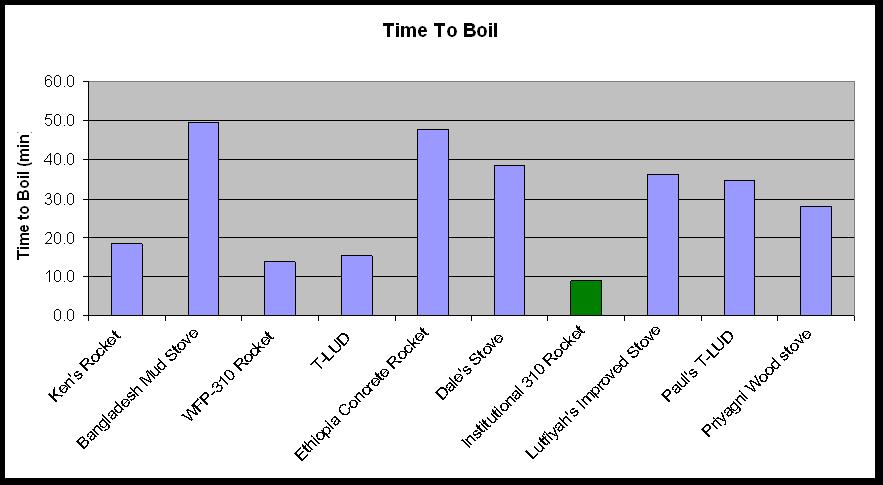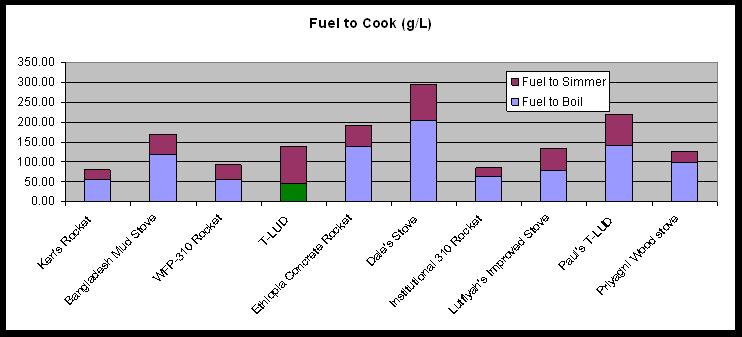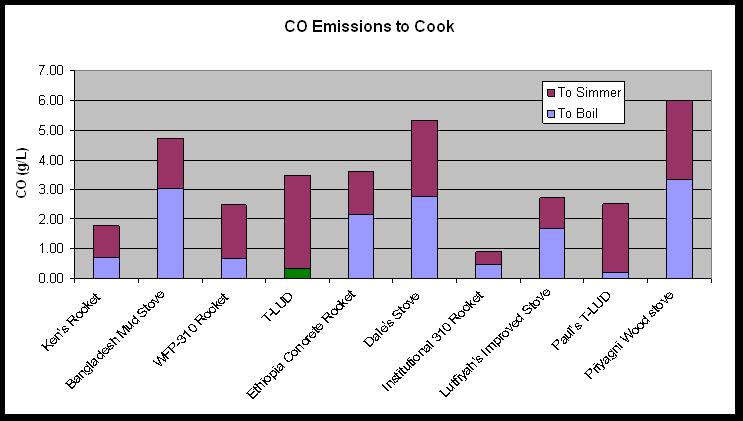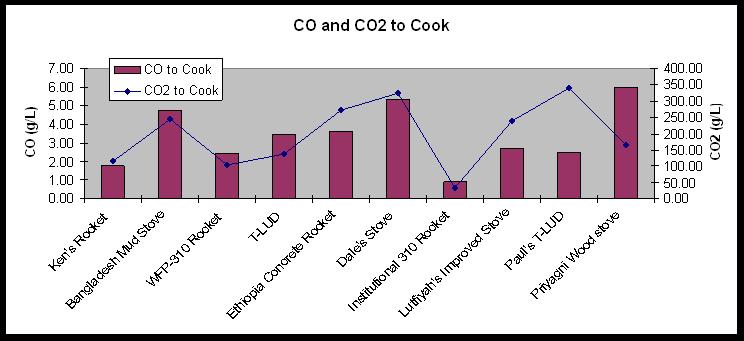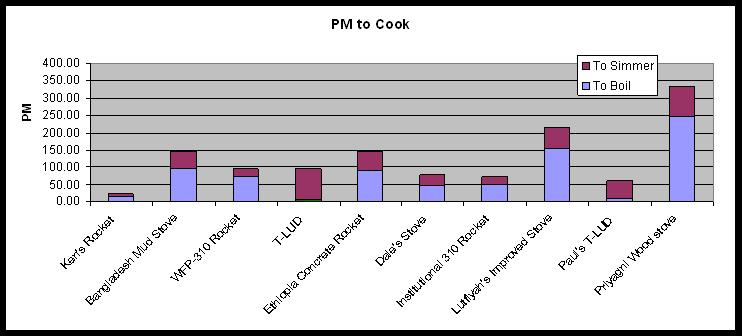 1.) There is a large difference in the time it takes for stoves to boil 5 liters of water. The slowest stove took 50 minutes while the fastest took less than ten minutes. Stoves with skirts, where the hot flue gases are forced to scrape against the bottom and sides of the pot, are more successful in this category. For instance, Paul Anderson's T-LUD stove used a skirt in the first test but not in the second. The Institutional Rocket uses a very large pot which gives it an important advantage.


2.) Three stoves used less than 100 grams of wood (kiln dried Douglas fir) per liter to boil 5 liters of water and then simmer the remaining water for 30 minutes. Four stoves were grouped around 150g/l. Again stoves with skirts around the pot used less wood.


3.)Paul Anderson's T-LUD stove was very successful at high power in decreasing emissions, both CO and PM. Five of the stoves made about half the CO compared to other stoves in the competition. The Institutional Rocket stove, similar to stoves being made by GTZ and WFP, made less than one g/L.


4.) Again, at high power the T-LUD was impressive in reducing PM. Ken Goyer's Rocket stove made about 25 mg/L. The second best stove, made by Dale Andreatta, emitted about 75 mg/L.


This was fun and we all learned a lot! As soon as the numbers are ready we will be sending on results from comparing systems that measure emissions.


An hour long video was shot at Stove Camp which will be available when it is finished.


Thanks to Shell Foundation for their support.


Best,


Dean

Dean Still
dstill@epud.net
Aprovecho Research Center
www.aprovecho.net

Ken's Rocket with Insulated skirt

Orjina's Bangladesh Mud Stove

WFP-310 Rocket with 310 Stainless Steel combustion chamber and skirt

TLUD Top Lit Updraft With Ken's Insulated Skirt No Chimney

Ethiopian (Concrete) Rocket Stove

Dale's Stove

Institutional Rocket Stove with 310 Stainless Rocket Elbow

Lutfiyah's Improved Orjina Stove

Paul's T-LUD with Chimney No-skirt

Priyagni Wood Stove
Stoves:
Ken's Rocket - (Aprovecho) typical rocket with insulated skirt developed by Ken Goyer
Orjina's Bangladesh Mud Stove - (PCIA) Mud stove submitted for testing and improved at Camp by Lutifyah.
The Bangladesh mud stove is constructed by a local woman at the PCIA household energy and IAP pilot project in Bangladesh . (See PCIA Partner Profile: Village Education Resource Center) The pilot is funded by USAID and aims to reduce exposure to IAP through behavioral and household energy improvements. Our aim is to develop an intervention 'model' which will be replicable and scalable. The woman who made this stove, Orjina, had received some rudimentary training in stove efficiency principles from the government agency which spear-headed the improved stoves program in the 1980s/90s. That program has now ended. As part of our pilot, we want to encourage women like Orjina to construct and sell stoves which are actually improved in terms of exposure as well as emissions. Lutfiyah brought back one of her stoves to have it tested and to see what improvements can be made. The testing at Apro was great because it gives us some sense of how well this stove compares to other stoves.
Lutfiyah's Improved Orjina Stove - (Aprovecho Camp)
Dean suggested that we include a rocket combustion chamber while trying to keep the exterior pretty much the same. Thus originated 'Lutfiyah's improved stove' (which should actually be called 'Orjina's improved stove'). In any case, the tests showed positive results in terms of time to boil, fuel used, CO..However we still need to work on the PM emissions. As expected just one trial run is not adequate - we will probably have to tweak and test the design some more. Some of the immediate observations were that the combustion chamber needs to be wider to allow women to use cow dung and briquettes and the mixture of the packing material should be dry. We didn't have enough time to sun dry the stove properly.
Lutifyah's plan is to share her findings with local PCIA partners so that they can start to identify brick makers, raw materials, suitability of design etc.
WFP-310 Rocket - (Aprovecho Camp) World Food Program rocket developed in Aprovecho Camp and tested in Africa (2004). Damon has been experimenting with better metals like 310 stainless steel.
TLUD - (Juntos Stoves) Top lit updraft gasifying stove tested with Ken's insulated skirt and no chimney, developed by Paul Anderson. Paul has eliminated the tuyeres in this design and gone to a simple mixing throat.
Paul's TLUD - (Juntos Stoves) Top lit updraft gasifying stove developed by Paul Anderson tested with chimney and no skirt.
Ethiopian Concrete Rocket Stove - (____________)
Dale's Stove - (Aprovecho Camp) stove developed at camp by Dale Andreatta
Institutional Rocket Stove with 310 Stainless Rocket Elbow - (Aprovecho)
Priyagni ("Beloved Fire") stove - (ARTI) improved wood burning portable cast iron stove developed by the Rural Energy Laboratory of Central Power Research Institute, Bangalore, India
1. Group Photo
2. Introductions Day 1
3. Ken Preparing Fuel
4. Nordica and Lutfiyah installing emissions equipment
5. Nordica, David, Chris, Damon at Hood Test
6. Pot and Test equipment
7. Outside Smoke Chamber for Instruments
8. Instruments in Chamber
9. Ken Feeding Stove with Damon and Steve Monitoring Results
10. Larry, Mouhsine and Lutfiyah Discuss Fundamentals
11. Mouhsine and Larry Modifying Honduran (TWP) Ceramic Rocket
12. TWP "Ecolenca, Ceramic Rocket, With Insulation
13. Mouhsine, Dean, Nate Catching Up
14. ___, Nate and Paul Assembling the TLUD
15. ____, ___ and David
16. Steve and Nate
17. Tami Contemplating Results
18. The TWP Ceramic Stove with Test pot
19. Clay Creations
20. The Data logger
21. Dale Leads Seminar
22. David and Lutfiyah testing Ethiopian Concrete Rocket Stove
23. Nate Discusses Safety
24. Mouhsine tries On Safety Hood in Test Kitchen
25. Test Kitchen
26. Nordica and Dean Discuss Ventilation Test Results
27. Paul Demonstated Tetrapak RHC and CEDESOL Frame
28. TLUD Top Lit Updraft Assembly and Fuel Chamber
29. TLUD Mixing Throat
30. TLUD Gas Combustion Chamber
31. TLUD Primary Air Control
32. Paul With the TLUD
33. Peter Demonstrating the Perfect Gas Laws
34. Meeting With Cottage Grove Community
35. Cottage Grove Community Potluck
36. CEDESOL Bolivia RHC (Retained Heat Cooker) without top
37. Orjina's Bangladesh Stove Submitted for Development and Test
38. Steve Cutting Mold for Improved Orjina Mud Stove
39. Enthusiastic Participants Preparing Clay
40. Mouhsine Master Clay Mixer
41. Dean and Steve Packing the Mold
42. Dean Applies Surface Coat
43. Dean Making Finishing Touches. Note Grate
44. Mike Checking the Gap
45. Lutifyah's Improved Orjina Bangladesh Stove
Camp Attendees