MALAWI: Mdula (Modular Mbaula) Mud Stove
Rok Oblak, Chembe, Malawi, October 2005

| | | |
| --- | --- | --- |
| | | |
| Mdula stove | Mold | BIO19 Gold Medal Winner |
BIO19 Biennial of Industrial Design Ljubljana, Slovenia
I want to inform you, that the WWF Finland and UIAH (University of arts and design Helsinki) project: Mdula - biomass briquette stove intervention in Malawi has won the Gold Medal Award on BIO19, represented by international jury of: Aldo Cibic (ITA), Robin Edman, ICSID (SWE), Czeslawa Frejlich (POL), Stephen Hitchins, BEDA (GB), Ruth Klotzel, ICOGRADA (BRA).
The project was set in Helsinki in January 2003 and realised in Malawi (Chembe Village) in January 2004 and finished in Ljubljana in September 2004. The concept is based on the local people material knowlege, upgraded with technological aspects and design skills of us, students, working together in the same environment to improve the situation in the LMNP (Lake Malawi National Park). It is a two-year multidisciplinary based international students effort, how to gain as much improvements possible with the least intervention done in the environment, social and cultural lifestyle of the local people.
The result is a concept of production of a no-cost biomass briquette stove Mdula (modular Mbaula), made with a simple wooden mold and clay as a construction material.
The final model is based on 8 study models, many field testings and interaction with the local people. It uses biomass briquettes combined with woodfuel to make the stove as effective as possible with the same manipulating procedure as burning and using three-stone cooking formation. The project has intention only to gain a long-term result.
As the jury showed a great interest in my stove and the concept of distribution, I would like to introduce the project to you, members of the HEDON forum, whose work i ve been introduced to as me being a member also. Maybe you can help me with additional aspects in re-evaluating the project realisation, since i don t have basically no experiences with it. I have a plan to set an internet page, but until then, i only can send pictures to the one who is interested, personally, not on the FORUM itself.
Have a nice day and enjoy working!
Rok Oblak Industrial Design Department Academy of Arts and Design Ljubljana, Slovenia
September 2004
---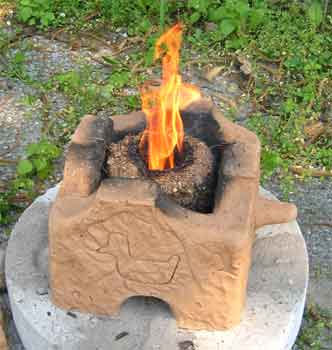 Lukna stove
---
Hello
Maybe you can find usable also my solution of the stove, using biomass briquette fuel. I introduced it once on the Forum, it is called Mdula stove and it is a result of our international team, based in Helsinki University with a cooperation of WWF in Chembe, Malawi.

Since I am based in Europe I can hardly communicate the stove project to be fully realized in Malawi. I stayed in Chembe for some time and I know it is impossible to execute the project there if not being fully engaged in local culture, people and the design and logistics process at least for a couple of years - and i cannot do that now.
I

have tested the stove with several methods and it works quite efficiently, with low emmisions and it offers cost-free production,
molds can be made in every village.

Maybe the site can help the stove project, I can arrange all the infoneeded. Or maybe you can see an alternative to it? Well, if interested, please contact me.

Rok Oblak

September 2005
---
Hello!



I feel very happy about your interest in the stove. Sure you can use my info and pics and share them with other stovers, this can be an efficient beggining of the execution of the project. I think the stove with its flexible design can still be developed further on to satisfy local needs. And this is what local people should do.


i have a presentation about the stove next week, i was promised that some of the finnish ministry people will show up, but i doupt. Anyhow i am quite busy with it, so i will answer to your mail in next few days. I am putting together a movie about cooking Nsima and Fish and after it theres a short guide about making the stove.


We ve had a concept about a cooking book, as a nutrition guide, for local people. It would be some sort of a comic color-in book without words, only simple drawings, so local kids can be engaged also. I can arrange you a copy. And inside you can also find the how-to guide of puting up a stove with tools you can all find in the willage.

Maybe we can develop it further on and make silkscreens for press. As i said, i will look at your press more in details, it looks quite efficient as a semi automatic machine.


Thanks again for the interest, enjoy working!


Rok

October 12, 2005
---
Hello!


Here are some extra photos that can be put on the stoves site:



Step1,2: Fill the clay mix (clay, sawdust/ashes/sand) in the mold.





Step3: Press the clay out of the mold.
Leave it in the shadow for 2 or 3 days





Step4,5: Bind the modules together while still wet, but hard enough to lift.
Leave it in the shadow for 2 or 3 days, then in the sun for final drying.


Wooden mold.


Final stove with the briquette holder that you can attach on the wall - it warms up the briquette before burning, it protects the stove walls being touched by kids. you can use the holders also to carry the stove around also when it is hot!





The briquette press that is used in Chembe, Malawi.





There are plenty of other pics, but iI think this will do for the first impression.





Thank you again for taking concern for our project.
Have a successful and creative week!





Rok Oblak


To Richard Stanley, October 2005
---
LINKS:


BIO19 Biennial of Industrial Design Ljubljana, Slovenia

WWF Chembe, Malawi Fuel Briquettes

University of Art and Design, Helsinki

Legacy Foundation Biomass Briquettes, Richard Stanley